Technology has revolutionized talent acquisition like never before. In this blog post, you will discover 5 key ways technology has reshaped talent acquisition in a few recent years. This is a must-read for every HR professional who wants to keep with the latest technological advancement in HR and recruitment.
The way we recruit has changed
A decade or so ago, hiring was just about credentials. Future employees were judged solely on their work experience, certificates and every other tangible thing they can acquire.
Nowadays, things have changed, and there are many more things to consider. Personality, charisma, potential and an ability to learn fast are much more valuable than credentials. With this change, more and more people can find work at reputable companies, even immediately after their studies.
Consequently, the way we recruit has changed, too. And it's all about technological advancements.
➡️ Download our free eBook: 2019 Guide for Buying a Recruiting Tool!
It's all about the technology
While HR departments around the world have much more to follow, they also have many aids due to technology. Talent acquisition will never be the same, and we are experiencing a lengthy change in priorities.
Technical influence on talent acquisition
How does technology exactly impact recruitment? How did it change this in recent year? We've compiled all the elements of technological influence in five key ways. Through them, you will understand why HR finds it much easier to search for and acquire talent.
How did technology change talent acquisition?
Here are 5 keys ways technology has reshaped talent acquisition in a few recent years: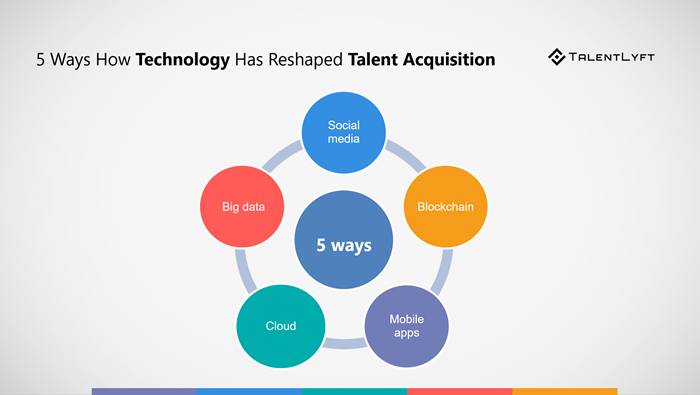 1. The influence of social media
Social recruitment is one of the fastest growing branches of talent acquisition. While it's not a new concept, it has seen substantial growth in the last few years. HR professionals have seen the value and the influence of social media and have started implementing it in their recruitment processes.
Social media is important because it gives recruitment a new, not yet seen, informal hue. Through the availability of information through social media, recruiters and managers can find out more about their candidates.
Job advertisinghas become easier. With targeted marketing via Facebook and Instagram, companies can reach the right people, at the right time and in the right place. The Internet-based method of advertising job openings makes it less likely for unfit people to apply for openings.
With that change alone, HR departments have seen less time wasted on castaway resumes. Efficiency has thus been improved. Through a simplified recruitment process, HR departments have had more time to focus on intra-company matters and making their collective a better one.
"Social media has turned profiles into resumes that are available around the clock," says Joel Simmons, a senior copywriter at EssayOnTime. "Through an informal platform, companies can come off as more attractive to potential candidates and filed much better and more filtered offers."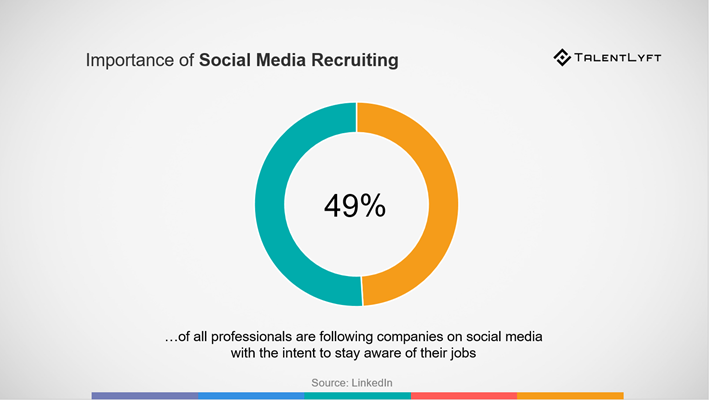 2. Blockchain brings unheard-of security
Every company values security but focuses all its resources on safekeeping HR records. Because they are the very crux of a company's functioning, these records must be kept safe.
Traditional antivirus and anti-spyware programs are still part of every company's arsenal, but they can't get everything done. Instead, more and more companies have turned towards the use of blockchain. The decision to change up their security has been groundbreaking and recruiting has seen some major changes because of this.
Not only does blockchain make a system secure, but it also adds transparency. Anyone who has access to HR data can access it at any time, without difficulties or fears of the data being tampered with.
With blockchain in HR, recruiters can store candidate information, training programs and work performance data. With everything being safe from theft and tampering, HR departments can have a better overview of their own analytical data.
By knowing that their data is safe, HR professionals can make better assessments of their candidates and how do they fit with the company's vision. Frauds are almost nonexistent, while transparency is on the rise. The blockchain is, however, still in its infancy and it has yet to show its full potential as a recruitment aid.
3. Mobile apps bring recruiters and candidates closer
Delivering information is one of the more challenging parts of any recruitment process. To ensure the right people have a chance to fill a position, there has to be seamless communication.
Emails, calls and other forms of immediate communication are good, but often face delivery problems and aren't efficient. With these flaws, HR recruiters have sought the aid of technology to create better communication channels. One of them revolves around mobile apps.
For every application, a company may require candidates to fill out a form via their official mobile app. By doing so, future employees route all their data to one channel, where data scientists and HR professionals may analyze them.
Mobile apps also make the recruiting process much easier, without any unnecessary investments regarding effort and resources. After a certain application date comes, the department may take their time and invite the most impressive candidates for an interview.
The sheer immediacy of the process also allows for better allocation of time. With nothing going to waste, the interviews can be much more thorough and emphasis may be put on character analysis. Collecting resumes and handling information is a problem no more, and HR departments have recent technological advancement to thank.
4. Cloud is the new solution
Data keeping has always been a weak spot for many HR departments. While they may run successful recruiting campaigns and advertise the job opening, the data is always at risk of being compromised.
Not only are physical devices more prone to manipulation, but they are also limited. No matter how big hard drives are, they simply take up space. Aside from this, they are also constantly at risk from being destroyed by a fire or a malfunction.
Cloud storage has revolutionized recruitment processes. Only trivial information is being kept on physical devices, while the most important databases are kept in the cloud. Also, more money is allocated to HR departments, simply because cloud storage is a lot cheaper than purchasing, safekeeping and running multiple hard drives.
With the cloud's growth in popularity, service providers are dropping their prices and accommodating themselves to companies and recruiters alike.
5. Big data speeds things up
Amongst the more important technological advancements, big data stands tall. By giving companies a bigger influx of data, HR specialists have been able to get a much better picture of their candidates.
With its capabilities, big data helps managers get to know their candidates' needs and how to obtain them. Not many people realize that big data is directly responsible for HR specialists accommodating to their candidates' needs, providing for a much fairer work market.
Big data is also closely connected to talent acquisition analytics. A new employee will be closely monitored, and his future success can be calculated using existing analytical data. Acquiring new talent for your company revolves around efficiency. The more data you have at your disposal, the larger your margin for error is.
Predictions aren't a luxury anymore, and we have big data to thank for that. With much better efficiency, small companies can experience growth and get to the next stage of professional development. All that together makes for a much more competitive market, all due to the benefits of technology, big data, HR analytics and data driven recruiting.
Conclusion: Technology has revolutionized talent acquisition
Technology has revolutionized talent acquisition like never before. With social media, employers can advertise much more efficiently and reach out to their candidates. Due to big data, they can acquire much more information. Additionally, this is without fearing for its security thanks to the capabilities of the block-chain. Analytics have also become more advanced, allowing candidates to find the right companies and vice-versa.
Source – humanresourcestoday